Prospectus
On this page you will find a wealth of information about Katherine Semar Schools.
key information

We hope that whether you are a prospective parent, pupil or already part of our school community, this information will help to give you an idea about the vibrant life of Katherine Semar schools. We are extremely proud of our schools which are continually evolving, providing a rich, inclusive and creative learning experience for all.
Welcome to our School
Our school has two classes in each year group starting with our youngest children in Early Years through to Year Six. This makes us large enough to have the capacity to provide amazing opportunities for our children as well as lots of new friends but small enough to know what is special and unique about every one of the children in our school.

Our Outstanding School
We are extremely proud that we have been judged outstanding in our infant and junior schools. It is the highest judgement given by Ofsted.
"Children make outstanding progress in English and Mathematics but also in other subjects like French and (Physical Education) PE."
"The most able pupils reach the highest levels of which they are capable and achieve very well."
"Behaviour is excellent. Pupils are motivated, excited and engaged by their teachers. They thoroughly enjoy school and feel safe" (taken from our outstanding Ofsted report)
Every year we consistently achieve results of the highest standard for our children because every member of the school community ensures that every child is able to reach their true potential.

our inspiring curriculum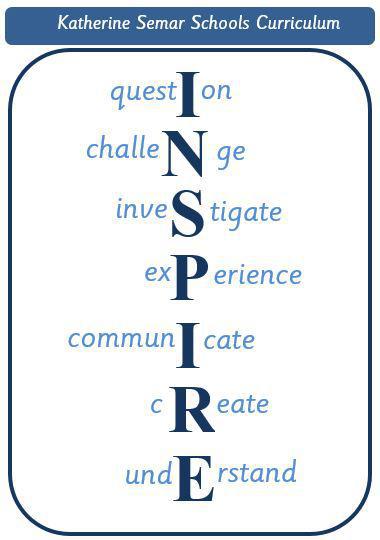 Our INSPIRE Curriculum
Our highly skilled and effective staff have written a bespoke curriculum for our children, which develops children's skills and understanding far beyond the National Curriculum. Our curriculum is full of enjoyment and challenge for our children and is both relevant to today's world and designed to equip them for the future. Our curriculum ensures a well-rounded educational balance that helps develop inquisitive, responsible children who become lifelong learners.
Educational Visits
Children learn best from first-hand experiences and as a result school trips are highly valued. Across the year, each class makes a number of trips and visits to enhance and support their classroom learning and bring topics to life. Recent trips have included visiting the Southend Aquarium, Colchester Zoo, Kentwell Hall, Duxford Imperial Air Museum and Walton-on-the-Naze. We also run two residential trips each year and a French day trip. The events page on our website gives a flavour of the experiences our pupils gain through our educational visits.

Forest School
We believe outdoor learning is important which is why we have two wildlife areas with hens and an amazing outdoor area for Early Years. We also run a weekly Forest School in woodland behind our school, which is kindly designated as a Forest School Area by UDC. Forest School is an engaging and motivating woodland-based approach to learning, designed to inspire individuals through a range of positive experiences. Through activities based in the woodland, children will develop personal, social and emotional skills. These will include independence, self-esteem, confidence, communication skills and self-discovery. We have 3 members of staff trained as Forest School Leaders.
---
Talented Teachers
We employ teachers of the highest quality who continually research innovative and leading teaching strategies. Many of them work with higher education institutes and our local teaching school to train other teachers.

Extra-curricular Clubs
Across the infant and junior schools we offer over sixty before and after school clubs across the year ranging from netball, tag-rugby and swimming gala to art, science and Philosophy for Children. We also have eight peripatetic music teachers offering individual music lessons each week including brass, guitar and drums. Alongside these, our professional music director leads our choir and orchestra who have recently performed at Saffron Hall and the O2 Arena. Additionally, we employ two full- time specialist sports coaches, who not only work with local nurseries, but also deliver high quality PE lessons as well as offering opportunities before and after school for competitive sports and general fitness training. Their superb teaching means we enjoy much sporting success often culminating in us becoming Essex champions for a variety of different sports. With such a variety on offer we are certain there truly is something for everyone.

ACE Kids Club
ACE Kids Club is an established childcare facility run by Katherine Semar School on the school site with school staff. This has expanded and improved consistently over the years. When the School had its OFSTED in September 2013, ACE Kids Club were recognised as 'OUTSTANDING'. We offer three types of childcare club – Breakfast Club which provides care before school from 7.45am, After School Club which provides care after school until 6.00pm and Holiday Club. ACE Kids Club aims to provide a fun, safe and inclusive environment that covers the needs of both parents and children.
School Meals
All of our school lunches are cooked on site by our own catering team with an emphasis on nutrition and everything is made fresh from carefully sourced ingredients. Every child in the Infant School receives a free school meal each day, in addition to a healthy fruit snack.

Our School Values
Our vision and values are at the core of everything we do. They underpin our teaching and learning, and provide an environment which prepares our pupils as confident, happy citizens.
Be positive
Proud to be who they are and positive about their own individual identity
Positive about other peoples, religions, traditions and lifestyles.
Proud of our common heritage and democratic traditions

Be confident

Prepared to meet and face challenges, and to create new situations and opportunities for themselves, their family and community
Able to see beyond what is now to create what might be
Have the highest expectations of themselves and of others

Be curious
Thirsty for new experiences
Willing to embrace change, to relish the unusual
Have the capacity to take calculated risks
Be kind
Genuinely care for others and know how to be a good friend
Warm hearted and considerate
Motivated to help and provide support for others
Be resilient
Be creative in their ideas, resilient and determined in their actions.
See opportunity in all change
Able to conceive a unique vision and influence others.
Be respectful
Respectful of the needs of individuals within a social context
Respectful of the world we live in and how to protect it for the future generations
Aware of the interdependence of all living things
Parents in partnership
At Katherine Semar, we value you as your child's first and most enduring educator. We offer lots of opportunities for you to be part of your child's learning journey. Parents tell us that they love feeling part of our school family and regularly having the opportunity to come and join their children in school to see what they are doing.
The most important people at our school are our children. Hear their message here.
---
Early Years at Katherine Semar
Mrs Caroline Dolby and Miss Munro are the Early Years Foundation Stage teachers. In this video, Mrs Dolby explains our approach to settling into school.
---
Our Curriculum and Enrichment
Mr Anthony Hull is one of the Deputy Headteachers at Katherine Semar Schools. In this video he starts to unpack why our curriculum works so well.
---
Music at Katherine Semar
Music plays a very important part in life at Katherine Semar. As well as having a specialist music teacher, we also have 9 peripatetic teachers who teach the full range of musical instruments. We have a choir and orchestra as well as various ensembles and perform at Saffron Hall, sing at the local nursing home as well as taking part in the Young Voices concerts at the O2.
Meet Mrs Cass. She leads Music at Katherine Semar.
Please enjoy our choir rehearsing one of their songs for the Spirt of Christmas concert which we take part in each year.
Please watch our video of our orchestra performing at Saffron Hall.
Our choir takes part in the Young Voices concert at the O2 Arena.
---
English at katherine semar
Mr Aiken talks through our approach to Reading and Writing at Katherine Semar Schools.

---
Mathematics at Katherine Semar
Our Maths results are consistently in the top 5% of schools nationally. Miss Slade leads Maths at Katherine Semar. Here she explains our approach.
---
Sport at Katherine Semar
Mr Gilkes is our Head coach at Katherine Semar. Here he explains how he and our other sports coaches develop children's skills.
---
Every year we take part in the Gym and Dance Festival. Last year we had 78 children perform in Gymnastics and Dance routines from our squads and clubs. Please watch the videos here.