Our INSPIRE Curriculum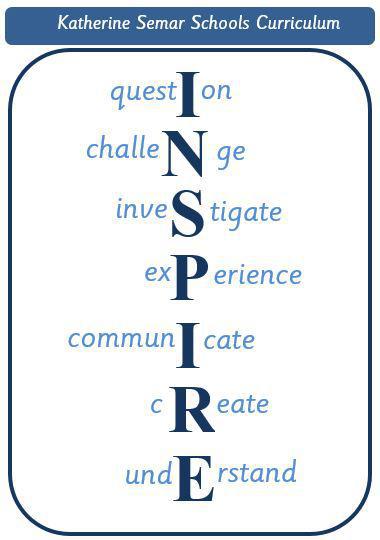 The INSPIRE Curriculum
Aspirational Skills Progressions
At Katherine Semar Schools we want each and every child to reach their full potential. To ensure everyone achieves the very best they can, in every area of the curriculum, we have developed aspirational skills progressions to focus teaching and learning. These are based upon the requirements of the 2014 National Curriculum but have been further built upon to create a curriculum that meets the needs of our children in our school. Throughout the curriculum this has meant that we have raised expectations for all pupils.
We have considered what makes the teaching and learning in each subject outstanding and incorporated this into our skills progressions. We have also incorporated the history and geography of our local area. We believe our curriculum is relevant to our children and as a result our children make outstanding progress right across the curriculum.
Engaging Contexts, Topics and Enrichment
Children meet their full potential when they are engaged, motivated and inspired to learn. To achieve this for all pupils we have embedded our skills progressions in a vast range of child-centred topics and learning contexts. Each half term starts with a topic launch to engage the children and act as a knowledge harvest to inform planning and teaching. Launches include being stranded in a forest, discovering a mysterious vehicle crash on the school field and being visited by a WWII evacuee who stayed on the school site. Mantle of the expert and Philosophy for Children are other exciting teaching strategies that we incorporate into our curriculum to further engage and inspire our learners. To further bring learning to life, each class experiences a wide range of enrichment opportunities including day and residential trips, forest school, visitors and workshops.
Phonics
At Katherine Semar Schools, systematic synthetic phonics is our primary approach to the teaching of reading and writing. We follow the Government's Letters and Sounds programme and enhance it with the broad range of engaging and interactive teaching strategies that we use in all other areas of the curriculum. Each child in Early Years and Key Stage 1 has a daily discrete twenty minute phonics session but more importantly phonics is embedded in our wider curriculum in both guided and independent learning opportunities.
Reading
Although systematic synthetic phonics is our primary approach to the teaching of early reading, children excel in reading when a range of strategies are taught alongside, most importantly, the encouragement of a love of reading. Therefore we have created a broad and rich language curriculum that immerses children in a world of books and reading, develops a broad range of comprehension strategies and develops fluent decoding of text.
Fostering a love of reading is a whole school priority and quality reading experiences are embedded right across the school and the curriculum. A comprehensive literature spine, well stocked libraries and classroom book boxes allow children constant access to modern high quality fiction and non-fiction texts.
Our reading schemes are carefully organised to support children in quickly acquiring fluent independent decoding skills. This begins with phonetically decodeable texts and gradually introduces more complex and irregular word structures which require a broader range of reading knowledge and skills. We combine a wide range of carefully organised reading schemes to ensure each child accesses the right books to move their reading journey on. These include Bug Club, Floppy's Phonics, Big Cat, Oxford Reading Tree and Project X.
We believe that our home and school partnership is fundamental to children's success in reading. Each child has a reading diary or school planner where their reading journey is recorded and shared with both home and school. These help to make sure all of the adults supporting our early readers know how brilliantly they are doing and what their next steps to success are. In the infant school, Friday mornings are also very busy, as family members are invited into class to share a book with their children before the school day begins.
E Readers – Active Learn/Bug Club
Pupils at Katherine Semar Schools have their own username and password to access the bug club books online. Children can choose which books to read and complete challenges online to earn pieces of a rocket or castle as a reward.
Additional Information
If you would like to find out more about our curriculum then please call into the infant or junior school offices. Additional information about the National Curriculum can be found at https://www.gov.uk/government/collections/national-curriculum.